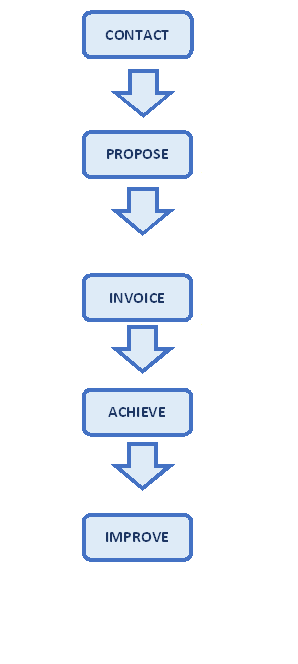 Here at Sparks Law, we follow a simple 5-Step Business Model
We believe that word-of-mouth referrals from satisfied clients is the best form of marketing. We connect! Our involvement in networking groups and online marketing campaigns, as well as client referrals help us grow our business, while our monthly newsletter and blogs help our clients stay connected and in touch with the latest legal news.
We believe a law firm should be predictable, have value-based pricing, and deliver efficient and high quality legal work.  Our attorneys meet with perspective clients and discuss their legal needs.  We listen!  We want to understand your business so that we can offer sound recommendations on how to best grow and protect your business.  We offer both flat-fee and hourly proposals to our clients, depending on their business needs and budget.  At Sparks Law, we believe honesty and openness are key to maintaining long-term relationships with our clients.  We go the extra mile.  If after we discuss a client's situation, we feel that we cannot provide quality services, we assist the client in finding other representation through our network of attorneys.
When a client accepts a proposal, we reach out to obtain the necessary information in order to provide the best services possible.   We also send out an Invoice that matches the proposed services discussed and agreed to.  No surprises!  At Sparks Law, we believe in a No Burn Billing Policyä: If we cannot link our invoice to an approval by you, we will not charge you for the work.
Once we receive the client's information and payment, our legal team goes to work.  The agreed to services are added to our project schedule, with a completion date, usually within 2 weeks, depending on the complexity of the situation.  We communicate!  Our attorneys are in constant contact with our clients throughout the process.
We care!  We value feedback on our Client's experience.  At the end of each assignment, we reach out to the client for candid feedback.  This feedback is key; it helps us improve and grow as a law firm.