Georgia Contracts Lawyer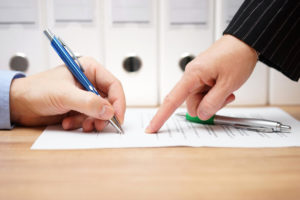 Most of our clients will consider entering into agreements with other businesses at some point, and when they do, they come to us to give them a predictable flat rate for reviewing the terms that the other side is proposing.
Our business attorneys have noticed with dismay that people have become desensitized to signing contracts—and that is not surprising when we sign contracts just about every day! Consider all of the contracts you sign without really thinking about it: click through agreements for mobile apps and software, terms and conditions for 15 minutes of wifi at a coffee shop, joining a gym, signing a residential lease, signing a receipt for a credit card purchase and many more.
The proliferation of legal agreements can make it seem like signing agreements without reading them (because you have no bargaining power to change the terms anyway) is a necessary part of life. But when it comes to your business, the stakes are much higher. It is crucial that you speak with a Georgia contracts lawyer who can help you understand exactly what you agree to when you sign the document.
Legal Agreements Can Protect Your Business
Legal language can oftentimes have very different meaning than normal English. There are thousands of key phrases and specific terminologies used in the legal world that are defined by hundreds of years of court decisions, state laws, and federal statutes. Without an attorney familiar with the language used in legal agreements., interpreting each specific term of a contract put in front of you can be very difficult, if not impossible, and if you miss something, you could lose your business altogether.
Consider Hiring a Georgia Contracts Attorney
Let us take some of the worry off your shoulders! We watch your back, so you don't have to.