Writing Company Bylaws in Georgia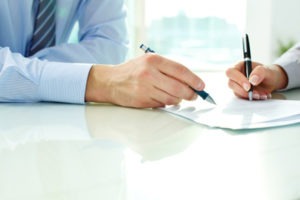 Generally, corporations require that you observe more legal formalities than other entities such as limited liability companies and limited partnerships. As a business formation lawyer can explain, writing company bylaws in Georgia is critical, as these are the rules which govern a corporation.
Some of the provisions that should appear in corporate bylaws include:
The annual meeting of shareholders
The annual meeting of directors
Quorum and proxy rules for voting
Titles of officers and their responsibilities
Number and term of directors
Indemnification
Corporate records
Transfer of shares
Dividends
Corporate seal
Personalizing Your Bylaws
There is some flexibility within the bylaws as to how the corporation is governed. Personalizing your bylaws with an attorney is your opportunity to agree to the things that reflect your values as a business owner. If your corporation does not have bylaws in place, state law provides the default rules by which your corporation must be operated.
Discuss the Importance of Writing Company Bylaws in Georgia with an Attorney
Writing company bylaws in Georgia is also important because the document helps demonstrate that you and your company are two separate entities, and this formality helps shield your personal assets from business liability.